The Karen Pryor Choice Treat Bag
Many clicker trainers consider the training bag (or treat bag) an essential piece of equipment. Getting the features clicker trainers want, at a price that makes sense, is the challenge. Inexpensive bags usually lack features, and feature-rich bags have been expensive in the past.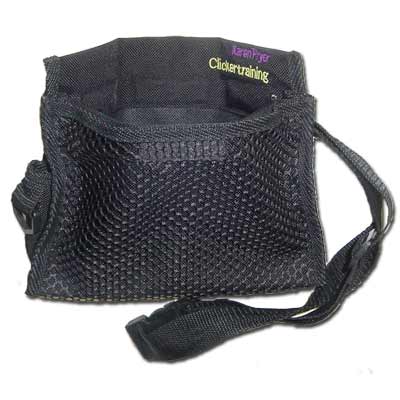 Here's our new design. Feature rich. Great price. We think you'll love it. Our testers (trainers, dog walkers, and pet owners) certainly do!
Clicker train anywhere, anytime with this treat bag at your side!
Fast open/shut

: Have your hands free to train. Pop the bag open with one-hand touch. Close it securely with one hand touch. Stays open when you want it to and closed when you want it to; no flap to get in the way.

Hold plenty of treats

: Who wants to refill all the time?

Wide-mouth opening

: Easily get your hand in and out!

Gusseted bottom

: Our bag stays upright on a flat surface; a really useful design feature that most people don't think about. Allows you to use the bag for training when it's NOT on your hip!

Roomy, outside mesh pocket

: Non-food storage is essential. Securely holds your wallet, keys, cell phone, supply of poop bags, and other items you carry. Your iPod, too!

Glide placement

: Easily lets you switch the bag on your left, right, or behind you, while you wear it, enabling you to keep it out of sight.

D-ring

: Hook on your keys or clicker!

Target pocket

: The right size for our extendable target stick.

Lightweight

: You'll enjoy having it along with you for all activities from walking to running—in the backwoods, at the seashore, or in competition!
Durable nylon construction. Belt extends to 45" long. Opening is 3" x 5". Comes in black.
The bag is now available at our Puncak Jalil Center at RM 75.00 per pc.
You can also purchase the Treat Bag online at the following link :-
http://www.petsplace.com.my/proddetail.php?prod=PouchBag